Thank you for your interest in Laura B. Poindexter's speaking schedule. To stay up to date on Laura's schedule, be sure to join the email list in the right column and select "Laura B. Poindexter's Seminars and Speaking". You will receive a notice of upcoming events approximately every two weeks. Events on this calendar are usually published 6-8 weeks in advance.
Jul
15
Wed
Webinar: Get Your Local Business Found Online
Jul 15 @ 10:00 am – 11:00 am
Driving Customers to Your Door
As a small business owner, you also need to be thinking proactively about how people are using search to find you. It won't just happen. You need to be proactive about your local search presence. This information will be especially helpful for businesses with a physical location. We will review best practices and innovative strategies to get found by maximizing your online presence, keeping your website up to date, as well as using sites like Yelp!, Google My Business, and Alignable.
There will also be plenty of time for your questions.
Jul
16
Thu
Webinar: The Facebook Tips You've Never Heard Before
Jul 16 @ 11:00 am – 12:30 pm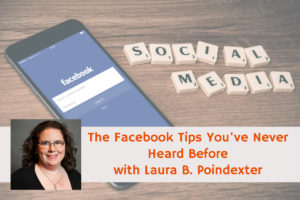 You've heard all the advice on how to market on Facebook but let's kick it up a notch as Laura B. Poindexter shows you 5 advanced strategies for getting massive engagement with your fans no matter the size of your following.
These are the advanced tips I don't cover in my usual seminars and webinars but they are the ones I implement every day for my clients.
This is not just theory. I'm going to show you HOW to implement these strategies.
The cost of this webinar is $47 and includes the webinar recording and links to resources.
Aug
12
Wed
Webinar: Social Media Timesavers
Aug 12 @ 10:00 am – 11:00 am
Do you know that 43% of small businesses dedicate six or more hours per week to social media?  While it's important to engage for social visibility and key connections online, we all want to do more in less time.
Participants will learn:
Tips for saving up to ten hours a week managing your social media
Simple ways to find usable, relevant content for your posts
How to integrate your social media into sales promotions and events
Best practices, business builders and more…
Who should attend?
Marketers, business owners, managers, professional services, nonprofit professionals. Anyone that needs to get more done in less time with social media. This session is suited for beginners. Participants should have a basic knowledge and understanding of social media in general.