Thank you for your interest in Laura B. Poindexter's speaking schedule. To stay up to date on Laura's schedule, be sure to join the email list in the right column and select "Laura B. Poindexter's Seminars and Speaking". You will receive a notice of upcoming events approximately every two weeks. Events on this calendar are usually published 6-8 weeks in advance.
Oct
30
Wed
Webinar: Automate Your Marketing: Facebook Messenger Marketing
Oct 30 @ 10:00 am – 11:00 am
Facebook Messenger is the number 1 app in the app store. It's where many customers prefer to receive messages. On top of that Facebook owns What'sApp – the other top messaging app.
Find out how to implement automation in your marketing with Facebook Messenger.
We'll look at the current features of Facebook Messenger as well as other services that work through Facebook Messenger (a.k.a. chatbots).
We'll also discuss how to integrate this marketing tool with your existing email and social media marketing.
Laura B. Poindexter has been building Messenger marketing campaigns for clients since 2016 and is a proud ManyChat Educator!!!
Dec
4
Wed
Webinar: Email Marketing Trends for 2020
Dec 4 @ 10:00 am – 11:00 am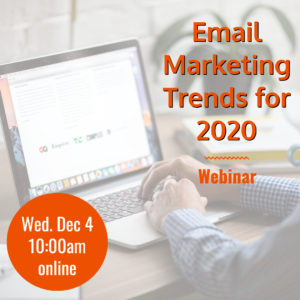 Today's consumers expect businesses to provide experiences tailored to their needs, interests, and habits. If your marketing messages aren't relevant and easily read on mobile devices, you can expect consumers to move on. It's now more critical than ever to get the right message to the right person at the right time.
Join us we explore the top email marketing trends for small businesses and simple ideas to incorporate them into your marketing plans, including how to use data to make smarter marketing decisions, how to create a more personalized email messages, and how to do more business and save time with simple automation.