Thank you for your interest in Laura B. Poindexter's speaking schedule. To stay up to date on Laura's schedule, be sure to join the email list in the right column and select "Laura B. Poindexter's Seminars and Speaking". You will receive a notice of upcoming events approximately every two weeks. Events on this calendar are usually published 6-8 weeks in advance.
Oct
7
Wed
Webinar: Making Facebook Advertising Work for You
Oct 7 @ 10:00 am – 11:30 am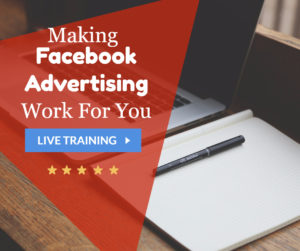 There is a way to make Facebook Advertising work for you and it's not randomly boosting posts. Join Laura B. Poindexter as she shows you how to EFFECTIVELY advertise on Facebook to reach your target audience while improving your organic engagement.
Don't spend any more money on Facebook until you attend this webinar.
These are the advanced tips I don't cover in my usual seminars and webinars but they are the ones I implement every day for my clients.
This is not just theory. I'm going to show you HOW to implement these strategies.
The cost of this webinar is $97 and includes the webinar recording and resources.
Oct
14
Wed
Webinar: Automate Your Marketing
Oct 14 @ 10:00 am – 11:00 am
Planning ahead to convert & keep
Do you send the same information over and over? Do you ever forget to follow up with new subscribers, customer anniversaries and birthdays? How do you share your great case studies, success stories and customer testimonials? Or introduce customers to your diverse product or service offerings? And do you wish you had a way to reward new subscribers & inspire them to take action right NOW, when their interest is HOT?
Autoresponder campaigns do what YOU wish you had the time to do! Us them to follow up, inform, entertain, & provide incentives for action & engagement – they work automatically while you focus on your business. This seminar will help you:
Learn the difference between automated messages and autoresponder campaigns
Decide where autoresponders can help you do better marketing communications
Understand key actions that trigger emails to be sent
Identify what steps to take to design effective autoresponder campaigns
Design the "evergreen content" that works best for your audiences
We'll also cover dos and don'ts, show a sample autoresponder calendar, and share real case studies of success with autoresponder campaigns.  Join us!
Oct
28
Wed
Webinar: Automate Your Marketing: Facebook Messenger Marketing
Oct 28 @ 10:00 am – 11:00 am
Facebook Messenger is the number 1 app in the app store. It's where many customers prefer to receive messages. On top of that Facebook owns What'sApp – the other top messaging app.
Find out how to implement automation in your marketing with Facebook Messenger.
We'll look at the current features of Facebook Messenger as well as other services that work through Facebook Messenger (a.k.a. chatbots).
We'll also discuss how to integrate this marketing tool with your existing email and social media marketing.
Laura B. Poindexter has been building Messenger marketing campaigns for clients since 2016 and is a proud ManyChat Educator!!!