Thank you for your interest in Laura B. Poindexter's speaking schedule. To stay up to date on Laura's schedule, be sure to join the email list in the right column and select "Laura B. Poindexter's Seminars and Speaking". You will receive a notice of upcoming events approximately every two weeks. Events on this calendar are usually published 6-8 weeks in advance.
Dec
18
Wed
Webinar: Last Minute Holiday Marketing Tips
Dec 18 @ 10:00 am – 11:00 am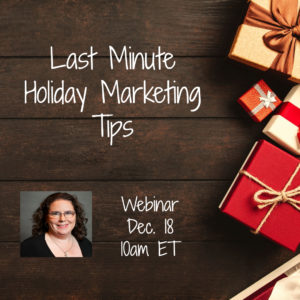 You haven't prepared your holiday marketing at all? It's not too late. Let Laura B. Poindexter show you how to reach your audience during this busy time of year and salvage a good holiday season!
We'll talk about ideas for last minute promotions, how to engage your audience all year long, and we'll look at some tools to help you get those promotions created and scheduled.
We'll look at:
in-person or in-store promotions
engaging with your list at this time of year
email marketing
social media marketing
social media advertising esp. Facebook and Instagram
There will be plenty of time for questions.